So excited to be a part of this blog hop! I think that connecting with other educators is so crucial in our survival and stamina to keep working with students that sometimes challenge us constantly! I have to say that the group of teachers I have gotten to know through
We Teach Sped
has been a lifesaver! Enough with the gushy stuff lets get to the good stuff!
I just got 4 new iPads for my classroom from Donors Choose. I am waiting on my cases to get funded so I can actually put them out to be used by the students. If you'd like to help you can click
here
to donate. Anyways, I know now that I'm going to need a way to store the iPads because I will have a total of 6 mini iPads for students to use throughout the day. I went searching on pinterest and found lots of great ideas but, I definitely wanted a space saving idea too. Here is the picture I found that I am so going to copy as soon as I get those cases!! LOVE IT!
This one is a simple sensory trick. I had a student who would refuse to sit still at his desk. So you try all the things you can think of weighted vest, blanket, doing some exercises for heavy work to get him "worn out" to sit. Nothing worked! Then one day one of my paras had on a bracelet her grandson made her. It was a pipe cleaner with pony beads on it! The student grabbed her hand and started playing with the beads on the pipe cleaner moving them back and forth over and over. It kept his hands busy for at least 20 minutes! It was awesome, so my paras and I got to making more of these suckers to keep all over the classroom for him in all the places we needed him to sit for a bit of time! Talk about easy, cheap, and a lifesaver!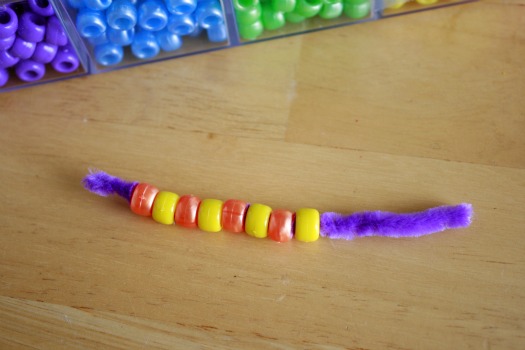 LAST ONE!! I have students that needed to work on writing things all the time. And when you are working on a worksheet that doesn't provide you with the way to model how to write the word, letter, or number there I just use a highlighter! It is the perfect way to give that visual without writing it for the student and then they can trace and copy it with the model you provided! Super easy!
FINALLY TIME FOR YOUR TREAT!!! I had posted these file folders earlier in the month but, thought that most of you may have missed them! These are great to have as a special activity for your parties or festivals for the end of the month as a station students can work at or as a work task for this time of year. Grab it at my
TPT store
! Oh and BTW I'm having a sale (15% off) from today until the 29th so happy shopping! :)